Who Is Our Client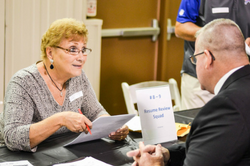 The Christian HELP client is any adult in Central Florida that is in need of employment, better employment, or additional employment.
They are 18 – 78 years of age, educated and un-educated.
They are of faith and no faith.
They are of various races, ethnic groups and nationalities.
They are single, or married, or widowed, or divorced, and often parents.
They are all different, but all the same on one account – they are smart enough and brave enough to come seeking assistance knowing the best way to live life and get a job, is in community. Our clients have figured out that the more people you have assisting you, the more likely you are to get a job, and quickly.