Jackie Avery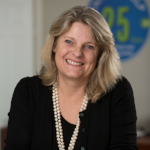 Born and raised in Africa, Jackie is our resident "Brit" and still to this day has her daily cup of tea to make the world "right".
Jackie has been with Christian HELP since 2006. She started off as a volunteer and before long was learning every aspect of the Ministry, serving in the Development Department since 2008. Jackie says: "I never dreamed I would land up in Fundraising. God knew my heart though and every day allows me to be in relationship with amazing folks who bless those in need. "
Jackie studied Public Relations in South Africa and most recently obtained her certificate in fundraising. Jackie serves on the Board of AFP (American Fundraising Professionals) and has a passion for seeing folks thrive when living out their God-given purpose.
When not matching donors with their passions, she enjoys the company of her husband, 4 cats and 1 puppy!