Opportunities for Your Affinity Group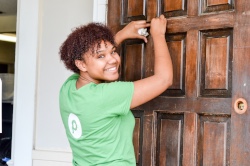 We invite your group – work, school, place of worship, small group, Bible study, sports team, book club or any other affinity group - to participate with Christian HELP.
Christmas

Volunteer to help with the Christmas program sorting toys, actings as elves, housekeeping, in the pantry and more! Opportunities available Nov-Dec. Contact volunteer@christianhelp.org
 
Food Drive

Each week Christian HELP provides food for around 250 families. Your group can help keep our food pantry stocked by collecting canned and non-perishable food items. We are also able to take perishable items and would be glad to arrange a pick-up. 
Food Pantry 

Volunteer as a group to sort food, help clients, unload trucks, and other general duties. The pantry is open M-F.  We offer two shifts: 8:30am-1:00pm or 11:00am-3:30pm. 
Maintenance

Volunteer with your group to help keep our buildings, property, and landscaping in tip top shape. 
---
   Click HERE to volunteer.