Dinner & Dreams
Our goal is to raise $100,000!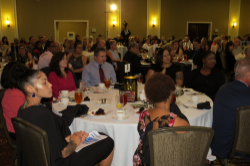 A Night of Hope is Christian HELP's annual fundraiser. This beautiful evening showcases what YOUR impact and work have done during the year, testimonials are shared from folks whose lives have been transformed, and the future vision is cast by the Executive Director.
This year, we are excited to announce there will be a silent auction! Bidding for the auction will open online, 9/21/19, one week before A Night of Hope. Items from the auction will be available for viewing and pick up after submitting your winning bid. 
If you wish to donate items for the silent auction, click HERE.
---
This is a ticketed event. Tickets are $50 per individual, $90 per couple, and include dinner and beverages with your seat. The auction opens digitally 9/21/19, but you will have access to bid and receive your auction item the night of the event, 9/28/19.
TICKETS WILL BE AVAILABLE FOR PURCHASE
AUG. 6TH!
If you would like to be a sponsor for Dinner & Dreams and prevent homelessness, please contact jackiea@christianhelp.org or
call (407) 632-0850. 
---
Thank you for partnering with us in fulfilling our mission - to prevent homelessness by helping people find jobs while providing for them materially and spiritually.