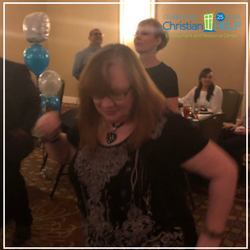 Sometimes when life gets tough, you've just got to dance. And that is exactly what Karla is doing. She isn't dancing to forget her problems, she is dancing because she has hope for her situation.
Karla, a devoted grandmother, was left with almost nothing after her husband of many years decided to walk out.
This left Karla in a precarious situation, living on the brink of homelessness. She'd seen the Christian HELP building many times, but then one day she decided to stop by and see what we were all about. In need of a job, Karla met with one of our Care Managers who walked with her emotionally, as well as practically. They worked together to create a great resume and for Karla to practice her interviewing skills.
Karla is still in the process of putting her resume and interviewing skills to work for her, but she has a hope and a confidence she didn't have before. She really wants to be a flight attendant and when we spoke to Karla at our recent Dinner & Dreams fundraiser she had just applied for her passport and was pumped! She had one interview left in Texas and was feeling very confident that she may get her dream job. That's why she is able to dance as you see her in this picture.
Karla's story, like many others, is one in progress. We are honored to be on her journey to employment with her, as well as join in with her for a fun night on the dance floor at Dinner & Dreams.