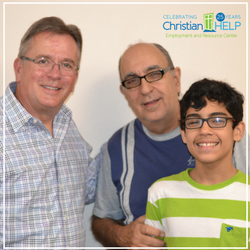 Raul came to the US in June of 2016. He was born in Puerto Rico and has lived in Cuba and most recently in Venezuela. As the situation in Venezuela began to worsen, Raul and his family made the decision for him to move to the US to look for work, leaving his wife and 12-year-old son behind.
Raul arrived very excited about the opportunities that awaited him in the US. At 65 years old, he was looking for part-time employment to supplement his Social Security.
The road to employment was difficult and that is when we first met Raul. Although Raul was a US citizen, bi-lingual, and held a Bachelor's Degree, he found it nearly impossible to find employment at his age.
At each visit, Jeff – Raul's Christian HELP Care Manager – prayed for strength and courage for Raul to make it one more day. In December, Jeff provided Raul a flyer promoting the AARP Foundation Senior Community Service Employment Program (SCSEP). This program works to provide training for unemployed workers over 55 to re-enter the workforce. Raul visited and interviewed with the local office and they approved his admittance.
Raul is currently working at Salvation Army near his home and has saved enough money to bring Raul Jr. over from Venezuela. Raul Jr. has been in the US a month and is slowly gaining weight. Because of the food shortage in Venezuela, the boy was having difficulty gaining weight and focusing in school. Today, Raul Jr. is getting plenty of food, thanks to the Christian HELP pantry made possible with funding from the Orlando Sentinel Family Fund a McCormick Foundation Fund.
We are now praying that Raul's wife will be able to join the family in the next few months!