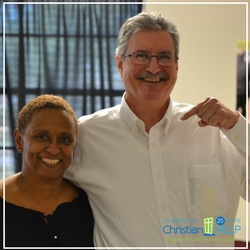 When the present is bright, it is easy to imagine and assume that the future will be that way too. We met George last December after his promising future came crashing down. George, originally from Illinois, had worked for the US Post Office for most of his career. He, like many Americans, lived a comfortable life – house, car, decent paying job.
Last year his world came crashing down when for unforeseeable circumstances, George lost his job. This job loss lead to several unfortunate events – his marriage crumbled and he lost both parents within two months of each other. George was broken and spiritually bankrupt.
George relocated to Florida to live with his sister and immediately began searching for a job. With no luck, he came to Christian HELP and sat down with Ann – one of our Care Managers. After meeting with Ann, it was easy to see that George was severely depressed and this was affecting his ability to find a job. George's first assignment was to seek medical care. We referred him to Shepherd's Hope and there he received the medical care that he so desperately needed.
Ann began giving George weekly tasks to complete. Week #1 – create a resume. Week #2 – research 5 jobs in the area. What we soon realized was that George would return week after week whether he had finished his assigned tasks or not. George needed not only a job but also a friend. He found that in Ann.
Last week, we found George sitting in our lobby after hours. When we asked him how we could help he said, "I'm waiting for Ann." Once Ann's last client left, Ann walked out of her office and that is when we snapped this precious photo of the two. "Ann, you've done it. You've helped me find a job!" We are thrilled to say that George is now working and remains connected to Christian HELP through bi-weekly meetings with Ann. "If Ann hadn't spoken truth and love into me like she did, I wouldn't be working today."