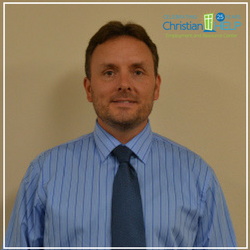 Phil's wife heard me speak somewhere and I encouraged her and her husband to come to Christian HELP for job search assistance. They did and upon their first appointment, I said hello before they were introduced to their Care Manager. Phil's wife was outgoing and enthusiastic, but Phil, not so much. He was reserved and obviously uncomfortable.
The Care Manager met with each of them privately and the work of helping them find employment began.
A couple months later while preparing to film a client testimonial video, I heard Phil was coming to tell his story. I admit I was surprised, but then I met Phil and understood why he had come to tell his story.
Phil had not found work yet, even though his wife had, but he was a completely different person. His attitude better, his countenance lifted and his outlook brighter. Phil wanted to tell his story because he knew he was on his way to finding a job. He was in a better place mentally and he knew he was no longer alone in his search and didn't need to be. There is wisdom in the counsel of others and Phil was receiving it.
On the day we shot the video, we played the song by Danny Gokey," Comeback", and then talked about everyone's impending comeback, and I'm happy to report, Phil is having his! He has gotten a job, is doing good and looking forward to the future. Gone is the shame as it has been replaced by belief and victory.
And as Phil is a military veteran having served in both the Marines and the Army, we salute him and all our brave men and women that have given their service for our freedom.