Tim's family was teetering on the brink of severe financial trouble. 
Tim came to Christian HELP in need of food and support. 
Through your generosity, Tim was able to put food on his family's table, and
redirect the money he would have spent on groceries to other expenses.
---
"...It was more than enough. We barely had enough room in the freezer!"
---
"The food we received was plenty, and since we were also receiving food stamps at the time, it was more than enough. We barely had enough room in the freezer!"
Tim also received career counseling from our care management team and is once again fully employed. He is grateful for the support he received at
Christian HELP and says our staff treated him as one of God's children. 
"I would say I was treated well, like a responsible professional, but also as a sinner saved by God's grace who needs community and prayer."
---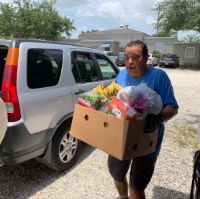 He is grateful for the aid Christian HELP provides in getting people back on their feet after a sudden change in circumstances. 
"I know where to go if I'm ever between jobs again.  Thank you for all you do, it's a tremendous blessing."
 
---
Tim sent us a follow-up email after he got started in his job. 
"Dear Jeff, Chris, Lisa and the rest of the Christian HELP team,
Thank you for all your help, encouragement, and prayers while I sought employment. It impacted not only myself, personally and professionally, but also my family. 
You are part of a grand ministry, and may the Lord continue to use you all to be a blessing to the community, and thanks for all the food too!
"
God bless you all in HIM,
Tim