A Friend of a Friend of a Friend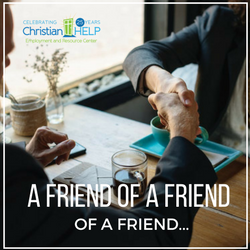 A friend of a friend of a friend. Sometimes that's how it all starts, referrals to Christian HELP I mean.
A lot of time people want to know how job seekers hear about us, find us, etc. The answer is often, word of mouth. We are not unusual in the fact that as with most businesses, the best way to get new customers are through referrals. Case in point…
Debra, a long-time volunteer of Christian HELP has a conversation with a friend who knows a friend looking for work. Debra tells the friend about Christian HELP who tells her unemployed friend. The friend reaches back to Debra to learn more and ultimately it is Debra who tells the job seeker more about Christian HELP and encourages them to give us a call. And so the job seeker does and so begins their journey.
Frank was a man over 50, looking for work after years with the same company. He was let go through downsizing, but it was Frank who felt downsized. What was he to do now? He was smart, educated, had experience, but he was also lost, bewildered and by the time he came to Christian HELP for his first appointment, heavily discouraged and feeling 2 feet tall.
In job seeking, confidence quickly turns to self-doubt if hopes and expectations are not delivered on in the time needed or anticipated.
There is no shame in needing a friend, assistance, or a group of professionals that can help. It's actually a smart move. Surround yourself with people that care and know what you don't. That's what Frank did. He met with his Care Manager at Christian HELP on a regular basis. He put the strategies in place he recommended and slowly, but surely, Frank got his confidence back and regained hope. This always translates into an interview and so it did with Frank.
Imagine, a middle-aged man beaten down by life, shoulders rolled forward, head tilted slightly toward the ground trying to muster up the strength to make another phone call, go on another interview and hope the desperation doesn't show through.
Now imagine that same man with hope and a lighter step and a brighter outlook. He is confident, not arrogant, in himself and his job search plan. He is equipped with a resume he knows employers want to read, he knows how to tell his story, answer questions better and talk about his transferable skills and how he would be a good asset to a company and their goals. He sits up straight, has a good handshake and looks hiring managers in the eye. Frank is not faking it. He is feeling it.
This is a true story and Frank just got a job, December 2017! All because of a friend, of a friend, of a friend.
Who do you know that could use our help?
Vickie Martin, Executive Director