669 Children Receive Christmas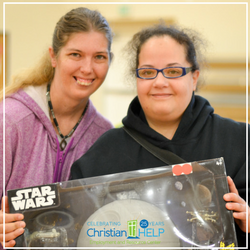 When I asked Alicia (pictured right) if I could take her picture she hesitated a bit but then smiled. "I just got off the graveyard shift at work and didn't have time to get ready." Alicia works overnight at a gas station to support her little boys, both of which have autism.  
Alicia walked around the Christmas Extravaganza looking for the perfect gifts for her sons. "Every gift they wanted I found, it must have been God!".
Alicia lingered around the Christmas Extravaganza giving out hugs and sharing her story because she was just so thankful that her children would have Christmas.
Thank you to everyone supported the Dove Tree Program. Because of you, 669 children received Christmas in 2017!