Getting the Interview (Part 2)
In the last blog, we looked at the struggle to land an interview. If you've tried everything from changing your resume to changing your hair color, I suggested you change your thinking. I believe that if you want to get the interview, you have to think like a Marketer, then communicate like one. 
Good Marketers know their product, carefully define their target market, and then communicate effectively to the target market to entice them to "buy". For our purposes, the product is YOU, the target market is employers that need what YOU offer, and product YOU must be effectively communicated sothe right employers offer you an interview.
To get the interview, I suggested you follow 3 basic steps:
Define the value of the product YOU. 
Identify the Target Market.
Communicate the value of the product YOU to the Target Market.
If you followed the instructions in the last blog, you have a clear definition of the product YOU and the value YOU bring to an organization. You also have a list of employers that make up your target market. You've completed Steps 1 and 2.
Step 3 is what we will focus on for this blog.  Communicate the value of the product YOU to the target market in a way that will help you get the interview.
Great communication always starts with a plan. A simplified Communications plan for you is:
Craft the Message.
Determine the Methods.
Execute.
Craft the Message
The message should be focused on how you fill a need or solve a problem for the organization; not what you need from it. Make sure you understand what your target market needs (from Job and organizational descriptions) and communicate your value to them in a language they understand. 
Craft a clear, concise message about product YOU that defines what an organization will gain from hiring you and that aligns with what they need. This should be done in the long form, as in a resume, and in a short form, to be easily communicated by you and others.
The overriding Message must be consistent across all Methods of communication including print, media, and endorsements. 
Determine the Methods
This is a crucial step. Social Networking, Direct Marketing, seminars, hiring events, job fairs, and job boards are just some of the many communication methods available to job-seekers. Since you are pressed for time, determine the most effective methods and focus on those.  
I believe the most effective methods for those who experienced difficulty getting an interview are Direct Marketing and Social Networking. Using them together can create the best reach for your message.
Direct Marketing is simple. In this case, Direct Marketing does not mean send your resume to companies, hoping someone reads it. Direct Marketing in this context means go to the companies you want to work for that need what you offer (the Target Market) and apply online, send your resume with cover letter to the specific hiring manager or have someone you know present you as a candidate they endorse. 
Endorsements from people working in your Target Market is the most powerful method for two reasons. You benefit from the person's creds in the company and they may get a bonus for bringing you in. Be selective, though. The person endorsing you must clearly understand your message and be equipped to deliver it effectively.
Social Networking is not really an optional method. Today, everyone must have a digital footprint. This method is particularly powerful when used in conjunction with Direct Marketing. This helps people get to know the value of product YOU and, done correctly, can entice recruiters and hiring managers to reach out to you and offer the interview. 
With Social Networking, I always recommend you Lead with a Serve. Don't know anyone who can endorse you for a position in the company you want to work for? Social Networking gives you the opportunity to reach out and offer them articles of interest or events they want to attend. Once you've offered something they benefit from, you can ask for something in return. Ask them to connect, to tell you more about a company, or even consider you for their organization. This social connection can lead to an Endorsement.
The best Social Networking for job seekers is LinkedIn. Over 90% of recruiters go to LinkedIn first to look for candidates for most professional positions. LinkedIn offers them tools to search for keywords, education and other needs for the positions they are trying to fill. If your profile is done correctly, you will be found!
As you optimize your use of the Social Networking platforms make sure your message is consistent. Your Facebook, Twitter, Instagram accounts should all present you as a professional.
You can add other Methods of Communication if you have time, but make sure to optimize your use of Direct Marketing and Social Networking first.
Execute
Once you have your Message and your Method, it's time to Execute.
Getting the interview is a time-consuming process and you have to make the time whether you are working or unemployed. Don't let anything stand in the way of your forward momentum. More people fail at this point because they don't have the commitment to Execute or people to support and encourage them in the effort.
Make the time, work the plan, GET THE INTERVIEW!
In summary, if you've had trouble getting an interview, don't give up. Try something different. Try to think like a Marketer, then communicate like one. Follow the steps outlined and see if there's a difference. We'd love to hear how this is working for you.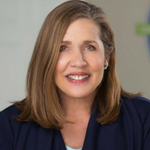 Tracy Trimblett 
For more assistance, contact Christian HELP. The Care Managers are retired executives and educators who are Christ-centered, Client-focused, and relationally-driven. They follow a CORE Process designed to equip and empower you to get to the next career level.