My Christmas Extravaganza Experience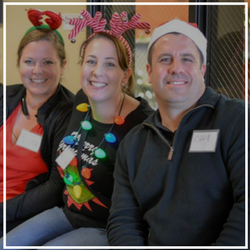 So I went to the Christmas Extravaganza in December 2017 hoping to help out the Christian HELP needy families pick out presents for their beautiful children.  This was my 4th year helping Christian HELP with their Christmas "toy day".  I had participated before by buying gifts, helping in the food pantry, and even having a Dove Tree gift collection in my office.  This year was the first time I helped families pick out gifts for their kids.  It was fun and enriching to be able to help out those in need that day.  In the end, I had a winding turn that led to a life-changing experience:
I was sitting there waiting to help the next family and one of the Christian HELP team members asked me if I would like to pray with a few families before they go shopping for presents.  I reluctantly said yes as I had never prayed with strangers and did not feel qualified for such a task.  I ended up spending time with 5 separate families.  Praying individually with each of them, hearing their challenges that brought them to this place, and then through prayer helping them re-connect with God in that moment.  That is only the half of it though.  I also was able to have a 1 on 1 conversation with God and the family next to me like I had never had before.  It was life changing! 
As we spend our time, energy, and resources to make a difference through the charities we support please know that Christian HELP is making an impact in so many ways.  They not only help people with finding a job, feed the needy in times of crisis, and assist families during the holidays, they impart a faith and hope for the future to their supporters as well as their clients. 
Thank you for letting me share my story with you. 
Chad Ourso
Board Member