Rescued, Redeemed and Restored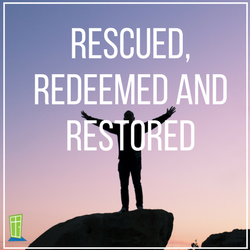 I live a blessed life. There's a roof over my head, a car that runs, and a few bucks in my pocket. I'm pretty sure where my next meal is coming from, even if it is take out. Most importantly, I know God's love.
I live a rescued, redeemed and restored life. That wasn't always the case.
I'll spare you the details, but there were times I wondered where I'd sleep and eat, and whether I'd have gas for the car or if it would even start. It wasn't all that long ago. I went through all of that alone. I didn't know God's love or know about Christian HELP.
My wife Lisa and I have both been involved with Christian HELP and have been touched by the work the good people there do. Lisa served on the board. A few months ago, I was blessed to lend a hand producing some videos the ministry was working on. These were videos of people who, but for the grace of God, could be us. These were stories of pain and suffering as well as hope and redemption. 
All of the stories hit me. The common thread was the love and support that Christian HELP provided. This help went beyond career counseling, food, and help with transportation. Christian HELP was blessing people in a variety of ways to help them restart their lives. I heard stories of employment assistance, food for families, Christmas presents and dinners, and even a car that got passed on to a person in need.
I also heard stories of Christian HELP sharing the good news of Jesus Christ while doing all this. I will confess to a pang of jealousy. In my time of struggle, I didn't know Jesus. I can't help but wonder how much easier my struggle would've been.
This is why Lisa and I support Christian HELP. It's the people there like Vickie, Jackie, Tracie, Tracy and Megan and so many others who do such great, Godly work. They're helping people and Jesus is at the center of it all. We believe in what Christian HELP does and how they do it. We do our best to support Christian HELP. Whether it is time, talent, treasure or a combination of those, we hope you can too.
Doug Prusak