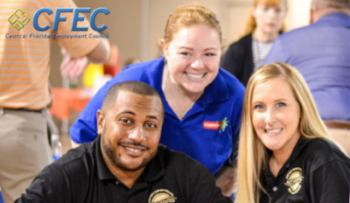 Upcoming Job Fair
Meet your next employer in person!
Governor's Job Fair - IN OBSERVANCE OF WORKFORCE DEVELOPMENT MONTH (19TH ANNUAL)!
September 4, 2019 from 12:00-4:00 PM 
(arrive no later than 3:30 PM)
Central Florida Fair Exposition Park - Exhibit Hall C
4603 W. Colonial Dr., Orlando, FL 32808
(Indoor event, takes place rain or shine!) 
Host: Central Florida Employment Council | CFEC, a division of Christian HELP
Job Fairs give you face to face contact with companies who are hiring and they are a great way for you to network with key people in the employment community. 

IMPORTANT DETAILS TO BE PREPARED:
Save Time - JOB SEEKERS click here to pre-register today!
All job seekers welcome!
11:30AM pre-job fair workshop available: "How to work a job fair and get the job you want"  
Veterans encouraged to attend
Free admission & parking
90-100+ companies expected
Company listing available two weeks prior to the job fair date: www.cfec.org/job-fairs
No children admitted
Professional dress REQUIRED & bring résumés
Job seeker questions call 407-834-4022
Thousands of upper, mid, and entry level career openings in various industries, as well as job seeker resources will be on hand to assist you with your job search!

* If you are already registered as a job seeker with CFEC, there is no need to pre-register;  instead, log in, and update your profile/resume as needed.