Business Hours
9:30am-5:00pm Monday-Thursday
9:30am- 4:00pm Friday
Client Hours
New Job-Seeking Clients: Walk-In Days are Mon-Fri, from 9:30am-12:00pm or 2:00pm-4:00pm
or call 407-834-4022 to schedule your first appointment.
Repeat Clients: Visits by Appointment Tuesday-Thursday 
Employment assistance
We have grown a lot over the years to increase the services that will fulfill our primary objective of helping the unemployed and underemployed find jobs. With the economy in the shape it is today, these services are more important than ever. It is difficult even for experienced professionals to find work these days. In an effort to bring job seekers and employers together online and in the community, we produce an Online Employment Resource Website, as well Central Florida Job Fairs and Employment Seminars throughout the year. We trust these resources will serve you well on your job search!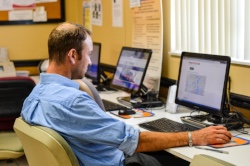 Employment Counseling, Job and Community Referrals

We offer one on one employment counseling in our offices to work with individuals and determine their employment needs. Each unemployed individual who contacts us for help, completes a skills profile. One of the employment counselors in our office then uses this, along with the client's résumé, to assess the types of work for which the client is best suited. The counselor provides these job seekers with coaching, assistance with their job search, and then reviews available jobs leads that require this client's particular skill set. We also offer in-house referrals for other needs such as food and résumé assistance. In addition, we make referrals to partnering agencies for other types of assistance such as clothing and medical needs.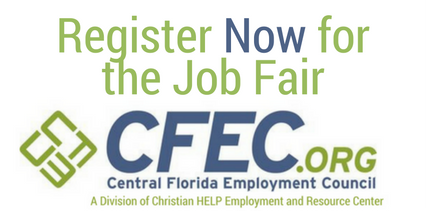 Central Florida Job Fairs

We offer a direct connect between employers and job seekers six times a year through hosting the largest job fairs in Central Florida, including the Governor's and two Mayor's Job Fairs.  Learn more about them at Central Florida Employment Council – CFEC. 
Job Board
We want to share our job leads from local employers with you! Search Jobs with CFEC's Central Florida Job Board ©
We believe the best way to get a job is to have help. We established our online employment resource website as a gateway to linking job seekers and employers from the Central Florida region online.

Online Employment Resource Website - CFEC

For Job Seekers, we believe the best way to get a job is to have help. We established our Online Employment Resource Website as a gateway to linking job seekers and employers from the Central Florida region online. This website has the largest Central Florida Job Board and Online Career Centers where you can search hundreds of local professional, mid, and entry-level job openings that are being posted daily. On our website, local job seekers can also find a wealth of information to assist them with their job search in Central Florida. Information such as networking groups, resume and interviewing resources, community agencies, educational resources, latest employment news and valuable ideas, updates about Orlando jobs, Central Florida Jobs, and other local community career / job search events can be found.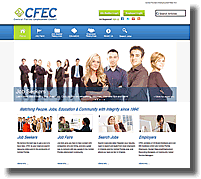 For Employers, we also provide employment assistance online through our resume database access, unlimited job postings, career centers, and featured jobs area; as well as event information about our monthly employer networking meetings and Central Florida job fairs. Central Florida Employment Council (CFEC) brings 800+ employers together with Christian HELP and other employment nonprofits to facilitate the effective placement of qualified unemployed candidates into jobs vacancies within the community. To find out more or to become a member visit the Employer section of our website, call CFEC at 407.834.4223, or email us at cfec@cfec.org. 
 
Résumé Assistance

Often times, those who come to us for help seeking a job, do not have résumés, or their résumés are out-of-date. Experienced HR professional résumé writing volunteers are available on specific days and times of each week (CALL to check availability). These volunteers are experienced HR Professionals with résumé writing experience. 
Please call our main office at 407-834-4022