Lynnette Craig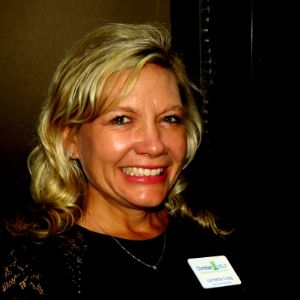 Lynnette was born and raised on country outskirts in the quaint, little town of Golden, Colorado, at the base of the mountains. She was raised as a Christian and accepted Jesus as her Savior and was baptized at age seven, but fell in love with Jesus when she was pregnant with her first son. That's when she said she finally realized life wasn't just about her and learned heart-deep He adores us all so much He died for us to be forever with Him.
Lynnette stayed in Colorado, attending Colorado Christian University where she received her undergraduate degree in Organizational Management with an emphasis on Christian Leadership.
She continued her schooling and received her Master's in Counseling from her alma mater.
Lynnette moved to Central Florida in 2014 and kept feeling a nudge whenever she drove by Christian HELP, but also felt the Holy Spirit impressing upon her that "not quite yet." So she waited.  She was beginning to get anxious looking for a job and considered coming to Christian HELP as a client.  However, God had other plans! Lynnette attended a 2018 4th of July event in Winter Springs that Christian HELP had a booth at. There, Vickie, the Executive Director, was just telling someone she was going to look for a counselor when Lynnette walked up. Lynnette approached her and said that she wanted to find a job and she was a counselor previously in Colorado. Soon thereafter, Lynnette joined the Christian HELP team as the Lead Care Manager for our clients!
When Lynnette is not working hard, she is playing hard traveling all over Florida cheering on her kids playing competitive sports. She enjoys Florida for its nature, but misses Colorado mountains because in her words, "We didn't have sharks, water moccasins, or alligators there to eat me!"